Loudinator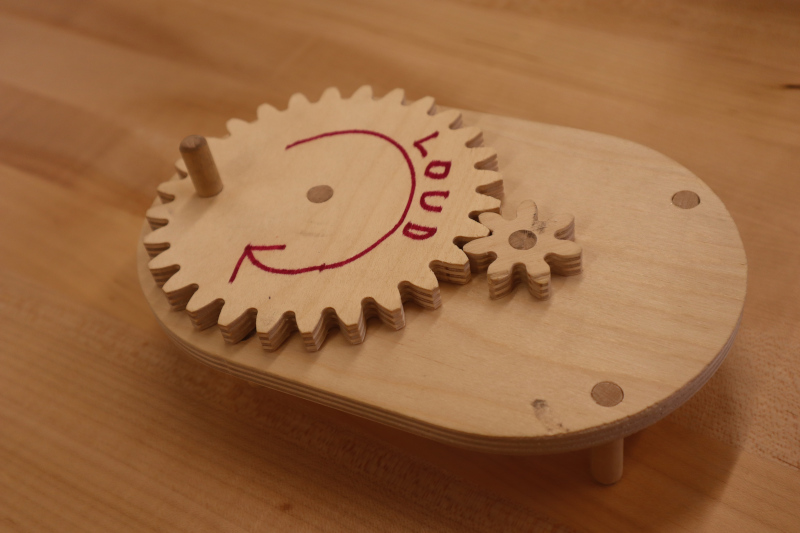 The Loudinator is a handheld noise-making device which generates a racket by clacking a pair of out-of-phase pawls against a wooden ratchet. The ratchet wheel is actuated using a hand crank via a 3:1 gear mechanism. Volume can be adjusted from loud to excrutiating by tightening the rubber bands which hold the pawls against the ratchet.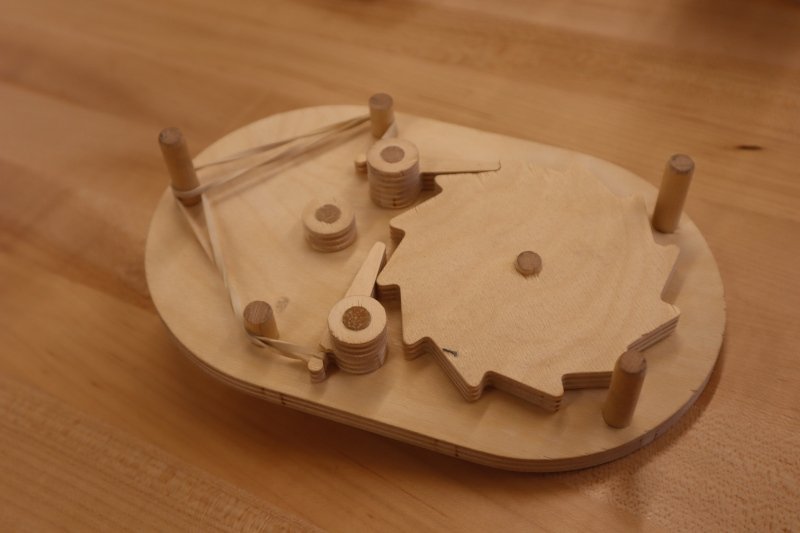 The video below first shows the noise-maker in action, both from the front and from the back so the ratchet mechanism can be seen. I mercifully muted the video, but you can right-click on the clip to unmute if you like:
The gears, pawls, ratchet, bushings, and support frame were designed in Fusion360 and cut using a 4 mm end mill on the Zund. I used the example Gear script to make gears with proper involute teeth. The part of the pawls that secure the rubber bands were hand-trimmed with a utility knife to avoid interference with the frame. Holes were either cut for ~0.2 mm clearance or a slight interference fit with 9 mm dowels, and everything was gently tapped together with a dead-blow hammer. A fun future iteration could include more stacks of ratchets and perhaps a thicker dowel which would act as a handle, allowing the user to swirl the mechanism around their head like a giant
ratchet instrument
.
This work is licensed under a
Creative Commons Attribution-ShareAlike 4.0 International License
.
© zach fredin, 2023